Embossing arc-shaped switch
The embossing process is the very common with the membrane switch keys, the embossing can help to have a good tactile feeling. The more difficult is the arc-shape embossing for the whole membrane switch which contain the circuits. The arc-shape switch will be better for match the arc-shape enclosures. The arc-shape embossing creates a raised surface that can be completed on many areas or a single button to provide different tactile feeling. The challenges created with arc-shape embossing is the tooling make, the by the membrane switch is very flexible, and there has the printing colors and the circuits. So there we need test the arc-shape that match the enclosure again and again. The arc-shape can be permanent, and this process can help you to get the high quality for you assembly to the arc-shape enclosure.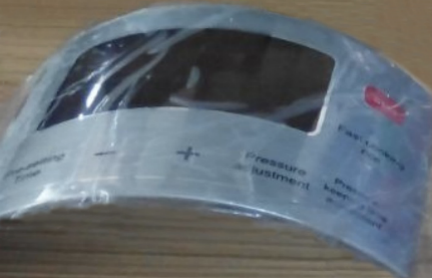 Product ID card
Brand: FD
Material: PET/PC/PVC/Acrylic adhesive(MacDermid Autotype/SABIC/3M/Nitto)
Size/ Thickness: Customized Size/ Thickness Accepted
Flexible Or Rigid: Yes
Certification: ISO9001:2015 /ROHS/SGS
Payment terms: T/T, West Union
Shipping by: UPS / FedEx / DHL / TNT or Other Ways Specified
Delivery time: 12~15 Working Days
Specification
①Material:
a.Graphic overlay- F150 /F157/F200/F207/ EBG130/ EBA130/ /8010-PC/8B35-PC/PC HP40S /PC HP92S/PC FR60
b.Rear adhesive-3M 9448A/3M9080A/3M 467MP/3M 468MP/3M 7952MP/3M 9471LSE/3M 9472LSE/3M 8153LSE/3M 9495LSE/3M 9469PC/3M 9469VHB/3M 9432VHB
②Size:1.0~500.0mm*1.0~500.0mm
③SMD: Led, resistor, metal domes
④Keys force: 5g~300g
⑤Circuit layers: One layer/ Two layers/Three layers/Four layers
⑥Connector: ZIF contacts / Male Pin / Female 1.27mm connector / Female 2.54mm connector / Female 5.08mm connector(FCI, Nicomatic, Memcon, Chinese brand)
⑦Waterproof design: IP61/ IP62/ IP63/ IP64/ IP65/ IP66/ IP67/ IP68
⑧Total thickness: Above 0.3mm
Electrical performance
---
Comply with ROHS & REACH
The above product information is for reference only, we mostly provide customized production according to the design requirements of customers. The all raw material we choose are all meet the demand of the ROHS and the REACH.