Fiber-optic lighting panel
Fiber-optic are made up of many smaller optic fibers, this fibers are extremely thin and transmit light from an illumination source with minimal loss over relatively long distances and travel extremely fast. The fibers can be modified to emit light in discrete locations through several techniques such as embossed light extraction features or by bending beyond a critical angle. We also will adding multiple layers diffuse film to our Fiber-optic panels that for help to enhance brightness while maintaining uniformity.
With fiber optic backlighting, lighting from a light source, Most frequently, the light source is originated through an LED. The fibers coming off one end are then bundled into a circular ferrule and coupled to one or more LED light sources. The fiber optic design allows you to uniformly illuminate a larger area with fewer LED. They are more durable and well suited for rugged applications.
Lighting system development is becoming an important part of the product development process as lighting is becoming more widely utilized as it adds functionality, safety, overall attractiveness and top grade for the users. Our membrane switch and keypad membrane switches and keypads is evenly distributed via very thin fibers-optic layers under the graphic overlay, and we can do the illumination design very easy per your request.
Our customers have found that by utilizing our illumination expertise for their lighting system development, we can help lighten their workload, save development and production costs, and streamline their overall product development process.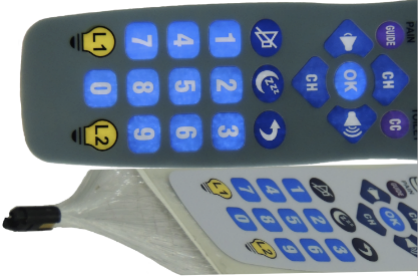 Optical fibers offer many other unique benefits:
a.Uniform and high brightness, Low Power
b.Circuit design easily and only need the very small space
c.Large area illumination
d.Long distance transmission, Low lighting loss
e.Easy to prototype, Cost-effective
f.A wide range of lighting Colors(Standard LED colors include green, white, blue, red, amber and yellow-green. RGB LED's can be used to effectively provide any desired color)
g.Long Life(LED light sources offer 10,000 to 100,000 hours of continuous operation)
h.Easy to design and assembly
i.Withstands extremes temperatures and humidity
Product ID card
Brand: FD
Material: PET/PC /Acrylic adhesive(MacDermid Autotype/SABIC/3M/Nitto)
Size/ Thickness: Customized Size/ Thickness Accepted
Flexible Or Rigid: Yes
Certification: ISO9001:2015 /ROHS/SGS
Payment terms: T/T, West Union
Shipping by: UPS / FedEx / DHL / TNT or Other Ways Specified
Delivery time: 12~15 Working Days
Electrical performance
---
Comply with ROHS & REACH
The above product information is for reference only, we mostly provide customized production according to the design requirements of customers. The all raw material we choose are all meet the demand of the ROHS and the REACH.