Overlays, or nameplates, are printed graphics placed over top of internal electronics in a product. Overlays serve a variety of purposes. In the first place, it protects sensitive materials and components from the effects of the environment and wear and tear.
What's the graphic overlay?
Quality control panels can make or break a product. Even the most cutting-edge technology is obsolete if the user can't conveniently operate it. That's where the graphic overlay comes in. And Foundation Industries has the printing and converting capabilities to create graphic overlays with exceptional style and substance.
Foundation Industries offers custom-designed graphic overlays for medical, electronic, and industrial applications. With our experience, you will be able to choose the right material, size, and layout for your application. The Foundation Industries manufactures overlays on a variety of durable substrates, die-cut to your specifications and punched once finished. We also offer special effects such as embossing, debossing, selective texturing, and unique finishes.
Foundation Industries manufactures the highest-quality, longest-lasting custom graphic overlays that stand-up to the most challenging environments.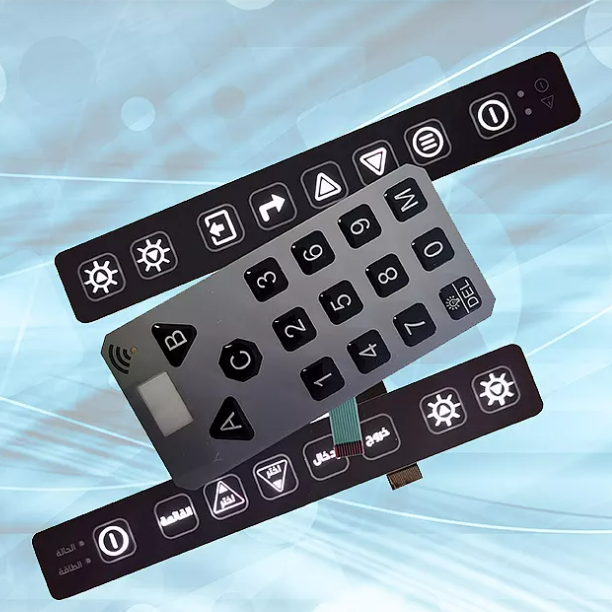 Graphic Overlay Manufacturing Capabilities
Overlay Materials Advising

Custom Fabrication

Color Control and Exact Graphic Matching

In-House Embossing

Gaskets, Lenses and Windows

Adhesives

Perfect Finishing

Inspection and Testing
graphic design overlays
Performance and aesthetic materials
A good graphic material selection is critical to achieving your desired aesthetic qualities. Choosing the right material is also crucial to ensuring a product's longevity.
Polyester graphic overlays and polycarbonate graphic overlays are our specialties due to their durability. The two materials look similar, but polyester is better resistant to chemicals and fatigue than nylon. In applications requiring the material to be flexed regularly, polyester graphic overlays are recommended.
Thicknesses of polycarbonate range from .005′′ to .030′′, and those of polyester range from .005′′ to .010′′. Graphic overlays made from polyester and polycarbonate are available with UV inhibitors for demanding outdoor applications. The materials are also available in gloss or matte finishes (various levels) and different textures.
Embossed for looks and functionality
The ability to raise certain areas of the graphic overlay can give your product a unique look and serve a functional purpose. We also emboss graphics in a printing process in addition to the hard-tooled emboss.s. Using male and/or female dies, hard-tooled embossing forms a variety of graphic overlays. The image illustrates common hard-tooled embossing types.
Borders raised by ring emboss typically measure .005′′ to .0015′′ high and .040′′ to .070′′ wide. Maximum emboss height is typically 6 times polycarbonate material thickness. A minimum radius of .010′′ should be used for embossed corners.
An embossed print uses multiple passes of ink to build up shapes on a graphic overlay without the need for tools. This option works best with the ring style or embossing detailed graphic entities. A primary advantage of print emboss is the elimination of stress on the material often caused by the forming process. Keeping the graphic flat improves adhesion to the sublayer. The embossing height is limited to .006"-.010".
Foundation Industries wholesale graphic overlays, OEM/ODM,Customized support. main products including standard graphic overlay, UV ink transfer printing overlay, Miller-like silver and brush overlay and so on. If you want to consult membrane switch, please contact us.