Metal keypad
The metal keypad of stainless steel and the PCBs. It's is widely used as ATM keypad and the outdoor lock keypad. The cost for the metal keypad is very expensive, the membrane keypads replace the metal keypads more and more, but there still have the metal keypad service for the very small group.
The metal keypad/keyboard combine the highest level of resistance to vandalism (up to IK10) and a modern and visually attractive design. Designed for the harshest environments, they are weather proof and can withstand most corrosive agents. The metal keypad can design with the very high key travel, we provide the OEM and the custom service for the metal keypads.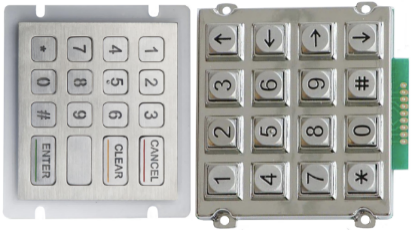 Comply with ROHS & REACH
The above product information is for reference only, we mostly provide customized production according to the design requirements of customers. The all raw material we choose are all meet the demand of the ROHS and the REACH.