Epoxy coating keypad
Epoxy Coating keypad also called epoxy paint keypad and epoxy coated keys & buttons. The epoxy coating keypad use mixed epoxy resin and curing agent material, the mixed epoxy resin drops on the keys surface of the buttons, and with a period of time placement, then the epoxy resin and curing agent can be dried into effect like crystal beauty. The epoxy coating can be help the rubber buttons to give a hard plastic feeling and a shiny vision.
Epoxy resin coating process can help to improve the silicone rubber keypads quality, the ornate-crystal style provide a glossy finish while also protecting printed legends and markings on the keys. The epoxy resin has waterproof, corrosion-resistant, reduce scrap and lower the cost that catch the a hard plastic feel or lens effect.
FD can help you in incorporating the application of epoxy resin into the design and manufacture of custom silicone rubber keypad, help you to improve the aesthetic look and feel of a keypads or keyboards.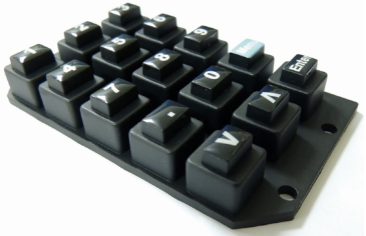 Product Specifications
●Actuation Force: 50 to 500 grams ●Insulation Resistance: 100 megohms/250V DC
●Contact Resistance: <200 ohms ●Contact Bounce:<15 msec
●Life time: >300,000 ●Travel:>0.5mm
●Voltage Breakdown:25KV ●Dielectric Strength: 24kv/mm of thickness
●Operation Temperature: -20 deg. C to 180 deg. C ●Storage Temperature:-30 deg. C to 250 deg. C
Comply with ROHS & REACH
The above product information is for reference only, we mostly provide customized production according to the design requirements of customers.
The all raw material we choose are all meet the demand of the ROHS and the REACH.