Overmolding silicone keypad
FD designs and manufacture many types and structure of silicone rubber keypads that used on a wide range of industries and applications. With over 20years experience in the business, We provide engineering and design assistance to help your keypads achieve your specification with the highest quality products in a successful.
Overmold silicone rubber keypad also know as the multi-color keypad or called dual hardness keypad / Double shore A keypad / Insert molding keypad / Per-Mold silicone rubber keypad. There don't have the terminology with the such process, but we design the such products very often. Multi-color keypad made by overmolding neatness and complete color keys. Therewe don't need to worry the colors will take interfere to each other's. This kind of keypads take know as double molded process, co-molded process and in-mold assembly. We have to mold the small part of the silicone rubber parts firstly, then secondly insert the such small parts to the secondly molding process that to complete the final parts. With the such process, we can produce one silicone rubber keypads with variant in hardness and colors. It allows to produce the silicone rubber keypad top keys very hard and then the keypad bottom to the lower hardness. This is a popular design because it allows for a plastic feeling while avoiding the cost associated with plastic injection mold. The overmolding can improve the silicone rubber keypads in functionality, the visual sense and the bond strength.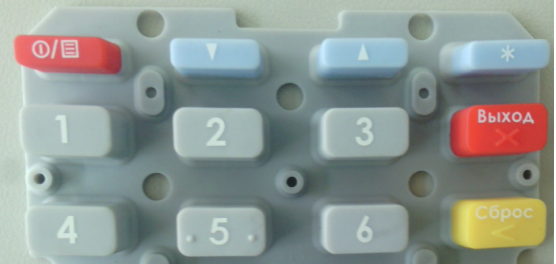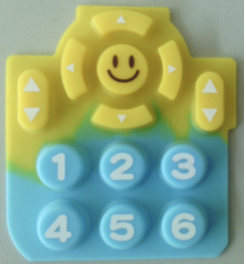 ---
Product Specification
●Actuation Force: 50 to 500 grams ●Insulation Resistance: 100 megohms/250V DC
●Contact Resistance: <200 ohms ●Contact Bounce:<15 msec
●Life time: >300,000 ●Travel:>0.5mm
●Voltage Breakdown:25KV ●Dielectric Strength: 24kv/mm of thickness
●Operation Temperature: -20 deg. C to 180 deg. C ●Storage Temperature:-30 deg. C to 250 deg. C
Comply with ROHS & REACH
The above product information is for reference only, we mostly provide customized production according to the design requirements of customers. The all raw material we choose are all meet the demand of the ROHS and the REACH.