Silicone Rubber Membrane Switch
The membrane switch is one type of electrical switch which used for turn a circuits on and off. The membrane switches used at many place around our life. The silicone rubber membrane switches use a compression-molded silicone rubber which can design with conduction carbon pills or with non-conductive actuators, then combine with the silver printing polyester-substrate, or the copper flex foils-substrate, or the PCBs-substrate that as the electric circuit layers, that build the full finished membrane switch. The silicone rubber membrane switch are know for their exceptional resistance to extreme temperatures, aging and a super soft tactile feeling. Relatively speaking, the silicone rubber membrane switch are a little more expensive than a standard membrane switch design, but they are one of the design choice for higher volume projects.
Silicone rubber membrane switch have quite a few features:
●Can utilize carbon pills, non-conductive rubber actuators, or stainless steel tactile domes
●More keys travel and a completely different tactile feeling for the keys and the surface
●Customizable actuation forces
●Unusual keypad shapes and sizes can be design can easy to produce
●Have excellent abilities to withstand outdoor use and resistant to chemicals and moisture
●Laser etching the rubber keypads can allow for backlighting
FD have many years experience in produce silicone rubber keypads and membrane switches, We can provide custom molded rubber keypads. These are visually attractive, 3D designed. Silicone rubber keypads offer a relatively low production cost and have excellent switching capability, We also can do the more complex and integrated assembly products that allow our end customers can directly installation for using.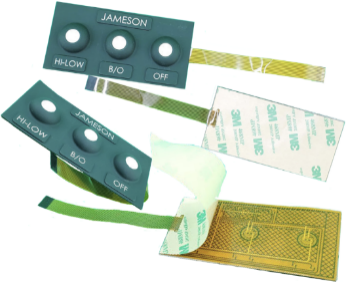 Product Specialty
---
Comply with ROHS & REACH
The above product information is for reference only, we mostly provide customized production according to the design requirements of customers. The all raw material we choose are all meet the demand of the ROHS and the REACH.