Custom silicone rubber keypad
Silicone rubber keypad or Elastomer switch combine a wealth of design option, the excellent tactile feeling, reliability quality, long life time in the out door and low cost. The Silicone rubber keypad use compression-molded and insert with conductive carbon pills or with non-conductive rubber actuators. The multiple printed and molded colors, spray coating, textures and graphic backlighting effects can be add in. The solutions provide a soft feeling silicone rubber key-top hardness range from 30 to 75 shore A, A colorful colors and are flexible in size and shape design to meet customer design needs.
The silicone rubber keypad are widely used in all industries and can be found in point of terminal controllers, households, fitness equipment, and are also popular in the medical and automotive industries. Foundation Industries served in the silicone rubber keypads industry for over 14years, Our experience and professional allow us to offer a wide range of competitive products with enhanced options. We do the other's manufacture are doing, and also do the other's manufacture are can't do.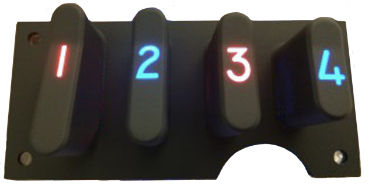 Custom silicone rubber keypad
Product Speciality
Molding & Decorating Capabilities: durometer, shape, size and color options
Button Design: custom designed actuators and flex walls for optimal performance & tactility
Circuitry: copper flex circuitry, printed silver or PCB based
Conductive: Carbon pills or printing carbon
Laser etching: etching capabilities for backlighting
Coatings: PU coatings / Parylene coatings / UV resistant coatings
Environmental sealing: sealed rubber keypads
Comply with ROHS & REACH
The above product information is for reference only, we mostly provide customized production according to the design requirements of customers. The all raw material we choose are all meet the demand of the ROHS and the REACH.